Get Vanilla Now
Do it yourself!
What is this stuff?
Addons are custom features that you can add to your Vanilla forum. Addons are created by our community of developers and people like you!
Will it work on my Vanilla Forum?
These addons are for people who downloaded and set up their own Vanilla forum. Compare your downloaded version with the version requirements on the right.
If your Vanilla forum is hosted at VanillaForums.com, this addon may already be installed there.
Vanilla 2.6 is here
! It includes security fixes and requires PHP 7.0. We have therefore ALSO released
Vanilla 2.5.2
with security patches if you are still on PHP 5.6 to give you additional time to upgrade.
Birthday Module 0.3
Author

Version

0.3 

Updated

Downloads

429

File Size

32.3K

License

GNU GPL2

GitHub
Vanilla 2.5.2 Compatibility
UnsureThe community has said nothing.
Adds a module showing today's birthdays to the Panel. Requires ProfileExtender with the "Birthday" field enabled.
To use this, you need to enable ProfileExtender and add the Birthday field, as the birthdays are read from the "DateOfBirth" column in the user table.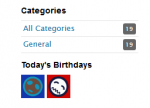 Questions