Get Vanilla Now
Do it yourself!
What is this stuff?
Addons are custom features that you can add to your Vanilla forum. Addons are created by our community of developers and people like you!
Will it work on my Vanilla Forum?
These addons are for people who downloaded and set up their own Vanilla forum. Compare your downloaded version with the version requirements on the right.
If your Vanilla forum is hosted at VanillaForums.com, this addon may already be installed there.
Vanilla 2.6 is here
! It includes security fixes and requires PHP 7.0. We have therefore ALSO released
Vanilla 2.5.2
with security patches if you are still on PHP 5.6 to give you additional time to upgrade.
Date Separators 0.3
Author

Version

0.3 

Updated

Downloads

130

File Size

81.6K
Vanilla 2.5.2 Compatibility
UnsureThe community has said nothing.
Requirements
Applications

Vanilla 2.1.6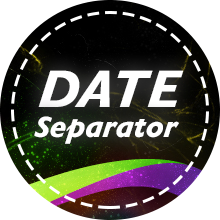 Adds date separators to the discussion list.
A Vanilla Forums plugin in that adds a list item with a date above all discussion list items with the last comment date in the discussions list view.
Date output can be configured via PHP strftime variables in the "config.php" with this entry:
$Configuration['DateSeparators']['Format'] = '%e. %B';
More information how to format the date can be found here:
http://php.net/manual/en/function.strftime.php
Sponsored by VanillaSkins.com - #1 Themeshop for Vanilla.
---
How can it help communitywise?
Date headers help your visitors and users to get a clear view which discussions have been updated on what day. Starting from "Today" to "Yesterday" and using specific dates their (appearance can be configured with PHP Strftime) "Date Separators" makes discussion lists visually easier to read by adding breaking list items with the discussions items that had their last comment on that specific day. With CSS you can design the date separator yourself.
---
Working with Vanilla 2.1.6+
---
0.2 + 0.3 Icon change
0.1 Initial release
---
by Vanillaskins.com - Premium Vanilla Themes and @hgtonight
If you wanna support development of this or other plugins, please buy our themes.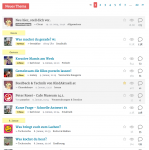 Questions