Get Vanilla Now
Do it yourself!
What is this stuff?
Addons are custom features that you can add to your Vanilla forum. Addons are created by our community of developers and people like you!
Will it work on my Vanilla Forum?
These addons are for people who downloaded and set up their own Vanilla forum. Compare your downloaded version with the version requirements on the right.
If your Vanilla forum is hosted at VanillaForums.com, this addon may already be installed there.
Vanilla 2.6 is here
! It includes security fixes and requires PHP 7.0. We have therefore ALSO released
Vanilla 2.5.2
with security patches if you are still on PHP 5.6 to give you additional time to upgrade.
DeepSea 1.5
Author

Version

1.5 

Updated

Downloads

959

File Size

2.7M
Vanilla 2.5.2 Compatibility
UnsureThe community has said nothing.

A Dark Blue responsive embed friendly and full scale theme for 2.1 with and underwater twist. This theme is very dynamic and can be placed anywhere. Use it in a Facebook Page Or anywhere you want.
A Dark embed friendly theme with an underwater feel ...I used a slight transparency to achieve this effect without removing readability .
You can make it as wide as you want and as narrow as you want .
If you wish to embed this theme , all you need to do is select it, copy the javascript and paste it into the place you want to embed it. It should adjust to any width requirements.
I covered every detail but if you find something not right please let me know.
Thank you for trying out my theme.
Use the CategoriesDropdown plugin.
http://vanillaforums.org/addon/categoriesdropdown-plugin
If you want the mobile to match please use the mobile theme
http://vanillaforums.org/addon/deepseamobile-theme
Tested on 2.2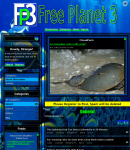 Questions
No questions yet.