Get Vanilla Now
Do it yourself!
What is this stuff?
Addons are custom features that you can add to your Vanilla forum. Addons are created by our community of developers and people like you!
Will it work on my Vanilla Forum?
These addons are for people who downloaded and set up their own Vanilla forum. Compare your downloaded version with the version requirements on the right.
If your Vanilla forum is hosted at VanillaForums.com, this addon may already be installed there.
Vanilla 2.6 is here
! It includes security fixes and requires PHP 7.0. We have therefore ALSO released
Vanilla 2.5.2
with security patches if you are still on PHP 5.6 to give you additional time to upgrade.
DeepSeaMobile 1.1
Author

Version

1.1 

Updated

Downloads

297

File Size

2.5M

License

GNU GPL2
Vanilla 2.5.2 Compatibility
UnsureThe community has said nothing.
A Dark Blue mobile theme for 2.2
Most plugins work.
To enable mobile themes with earlier versions of vanilla, you must have this line in your config.php
$Configuration['Garden']['MobileTheme'] = 'DeepSeaMobile';
Tested on 2.2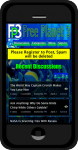 Questions
No questions yet.