Get Vanilla Now
Do it yourself!
What is this stuff?
Addons are custom features that you can add to your Vanilla forum. Addons are created by our community of developers and people like you!
Will it work on my Vanilla Forum?
These addons are for people who downloaded and set up their own Vanilla forum. Compare your downloaded version with the version requirements on the right.
If your Vanilla forum is hosted at VanillaForums.com, this addon may already be installed there.
Vanilla 2.6 is here
! It includes security fixes and requires PHP 7.0. We have therefore ALSO released
Vanilla 2.5.2
with security patches if you are still on PHP 5.6 to give you additional time to upgrade.
OneAll Social Login 2.0.0
Author

Version

2.0.0 

Updated

Downloads

1,627

File Size

111.5K

License

GNU GPL2
Vanilla 2.5.2 Compatibility
UnsureThe community has said nothing.
Social Login for Vanilla allows your users to login and register with 35+ Social Networks like for example Twitter, Facebook, LinkedIn and Google+.
Social Login
Social Login increases your user registration rate by simplifying the registration process for new users and provides permission-based social data retrieved from the social network profiles.


Your existing users can furthermore link their existing accounts to one or more social networks and can then use these social network accounts to login without having to remember another username/password combination.


The module integrates with your existing system so you and your users don't have to start from scratch.
Documentation
https://docs.oneall.com/plugins/guide/social-login-vanilla/
Contribute
Feel free to fork our GitHub repository to contribute.
https://github.com/oneall/social-login-vanilla-forum
Who are we?
Social Login is maintained by OneAll, a technology company offering a set of web-delivered tools and services for establishing and optimizing a site's connection with social networks and identity providers such as Facebook, Twitter, Google, Yahoo!, LinkedIn, Paypal, Instagram amongst others.
As today more than 250,000 websites rely on OneAll!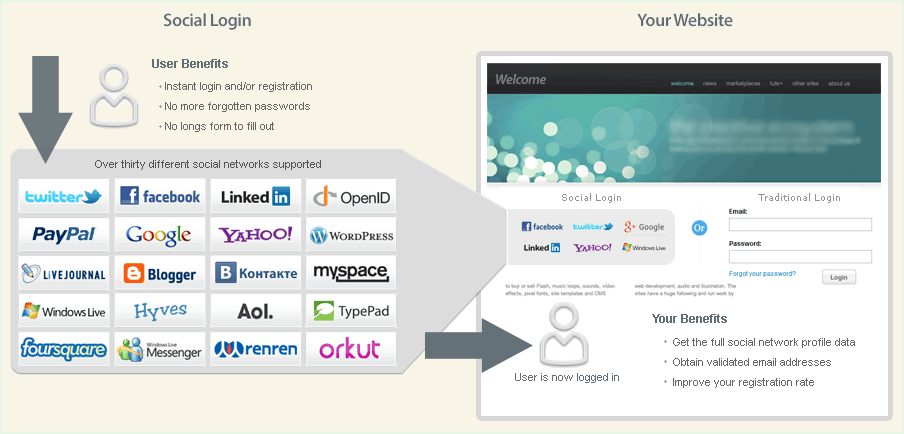 Supported Social Networks
Amazon
Battle.net
Blogger
Discord
Disqus
Draugiem
Dribbble
Facebook
Foursquare
Github.com
Google
Instagram
Line
LinkedIn
LiveJournal
Mail.ru
Meetup
Odnoklassniki
OpenID
PayPal
Pinterest
PixelPin
Reddit
Skyrock.com
SoundCloud
StackExchange
Steam
Tumblr
Twitch.tv
Twitter
Vimeo
VKontakte
Weibo
Windows Live
WordPress.com
Xing
Yahoo
YouTube
Support
Questions