HackerOne users: Testing against this community violates our program's Terms of Service and will result in your bounty being denied.
Some feedback appreciated ( Sports Tipping )

422
Developer
MVP
A few years ago, we developed a NRL tipping script. In fact at that time ( version 1 ) was released to the Vbulletin community, and I think we had something like 300 sites using our code, with over 50,000 members using the script.
Since ditching vb in favour of the great Vanilla forum, i decided to do a complete new version of our script. Totally dynamic, and hooked into our site and forums.
We are just now propagating the db with over 26 x 16 fixtures, and all the accompanying data, inc timestamps, and gmt times. But front end is now complete, in fact an entire sub site has been created just for our NRL tipping.
Demo Video: ( please ignore my crappy skills at Camtasia )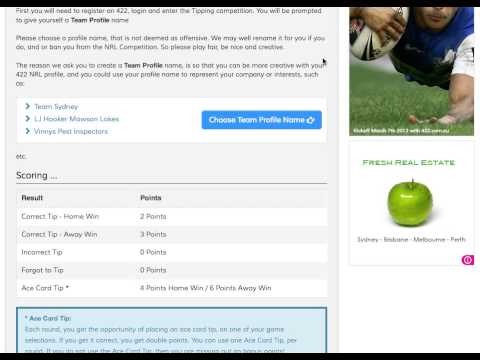 http://youtu.be/CYyWY9yfu0E
For those wondering what is NRL Tipping ( its Rugby league ) and each week tipsters ( registered ) tip on each round of games, in the NRL there are 8 games each week, and 16 competing teams, over 26 rounds.
Correct tips, accrue different scores. Each week, we tally the scores dynamically and award prizes to the winning "tipster"
We make it totally free to join, as I am against gambling ( in paid form ).
Anyhoo, this may be food for thought for those, wishing to engage their users over extended periods. By hooking in our forum badge and points system, and weekly prizes, we guarantee to keep a large userbase coming back to our site for at least 26 weeks. So in my view it is all worth the initial effort and ongoing support, to keep users on your site.
We also have integrated facebook sharing systems, and a whole host of other features. However, as a front end developer, I thought I would share this image.
Caveat: this is not a script I am willing to share with the community ( at present ) in free or paid form. But I am more than happy in answering any questions you may have, as it can be translated across multiple sports arenas / genres.
Feel free to comment, like or whatever
if you have any questions, let me know. I will do my best to explain the structure etc. Note: image is watermarked
There was an error rendering this rich post.