Please upgrade
here.
These earlier versions are no longer being updated and have security issues.
HackerOne users: Testing against this community violates our program's Terms of Service and will result in your bounty being denied.
Indicate that user name is unavailable
oskay
New
I encountered an SSO usability issue that I'd like to ask for help on.
This is Vanilla 2.3.1 with Vanilla jsConnect 1.5.3, allowing users to sign into Vanilla when logged into my Wordpress blog. SSO is generally working well, but I encountered an edge case.
Example: I have a wordpress user named Andrew. Andrew clicks over to my Vanilla forum and clicks to log in.
He gets a dialog asking him to choose what name to use to identify him on the site:

Naturally, he selects "Andrew" and then Connect. He is then (as it appears) prompted to enter his password: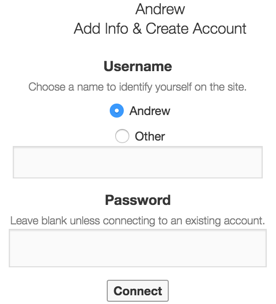 He reads the fine print and wonders if "connecting to an existing account" means from Wordpress or something else... but decides to leave the password blank. He chose wrong, and is greeted by a stern error that the password is required:
He then tries again, feeling silly for having read the fine print, and enters his password... and of course still gets the stern error that the password is required.
---
The problem that occurred is that there was already a forum user named Andrew. And there should be some way to indicate to the person creating an account that a given username is taken.
The software has a "Username already exists" message -- you can get it by typing "Andrew" in the "Other" field, but you would only discover that in the very non-intuitive workflow of not selecting "Andrew", but instead selecting "Other" and typing "Andrew."
What's the best workaround here? Perhaps there is some way to force the "other" option? If this is a bug, where is the best place to report it? I'm not sure if this is a jsConnect issue (it feels like it on the surface), but perhaps the underlying code lies elsewhere.