Please upgrade
here.
These earlier versions are no longer being updated and have security issues.
HackerOne users: Testing against this community violates our program's Terms of Service and will result in your bounty being denied.
Best of... page
batisbat
New
Hi dear,
In 'the best of..' page the profile photos of users don't fill the whole photowrap. The profile photo is about 40px40p while the photo frame is 64px64. Attached is the picture of the problem.
I would like to know (the path of the file and the code) where I can extend the profile photo.
Thanks in advance for your help and support.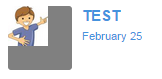 Tagged: